Our top 5 tricks to get more leads from your website
These days we're all pressed for time. We've compressed hundreds of proven website strategies into our top five high performers:
Convert your website content into something that compels people to pick up the phone and call you
Gather critical details from your best clients
Measure your results
Give away useful information in exchange for their email address
Create a landing page with incredible content
Your website should deliver great results long after it was launched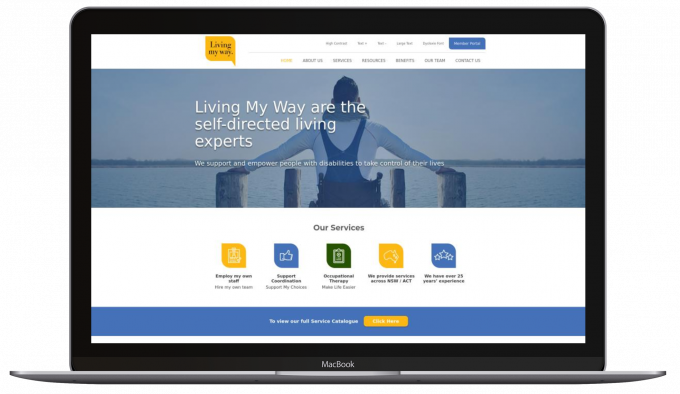 Do you need a website that brings you new clients?
Our team has been working with Australian small business like yours for over 20 years. Our core focus has always been to help your business grow with the help of a website that delivers exceptional results.
A 350% increase…
We were introduced to a new customer in December 2017.
Back then, they were getting around 10,000 website visitors per month, which is pretty good but we both knew they could be doing better.
We sat with them, understood what they needed to grow the business and agreed on a strategy to increase traffic.
By December 2018 they were averaging just over 38,000 visitors – a 350% increase in traffic.
This translated into a massive increase in awareness of the business and setting them up as Australia's authority website in their sector.
A 1 hour strategy session to help us understand your business objectives and which website strategies will help achieve that objective.
A customised website design that enhances your business brand and looks great on desktop, mobile and tablet devices.
Integration with your CRM to automate sales leads that come in from the site.
A solid SEO foundation to help your site get noticed on search engines.
Reporting to help you understand how your website is performing.
Recent success stories...
We started building websites in 1995, when they had to to built the right way…
We've carried this ethos throughout the life of our business and clients love us for it. 
All of our websites:
Are built on the latest version of WordPress.
Are built using the Elementor 'drag and drop' page builder. This allows you to easily update the website if you need to. Elementor is also an extremely light-weight and fast framework meaning it will load fast!
Are optimised for desktop, mobile and tablet devices – so they look great and have a great feel on all devices.
Include Google Analytics to keep track of how the website is performing.
Include automated off-site backups meaning the site can be restored quickly if disaster strikes.
Include security layers to help keep your site safe.
Include speed optimisations so the site runs blindingly fast.
Include regular 1 hour project meetings so you can keep check on the progress of the site and provide feedback as early as possible.
How much should I budget for a new website?
Our Business Professional Websites start from $550 per month for 12 months.
This budget gives you plenty of room for:
A well thought out strategy so your website helps your business grow,
A great design that reflects your brand and you'll be proud to show prospective clients,
Well written text that helps the site sell itself,
A strong website that performs well on desktop, mobile and tablet devices,
Basic SEO to your site rank well on search engines (get found for free!),
Hosting for 12 months.
Want a website that continually grows your business?
We offer no-obligation exploration sessions for small businesses like yours.
They're a productive 15 minute conversation with our website strategists to give you more clarity about how you can get more business from your website.
Prefer to email first?
Simply enter your details below and shoot us your question. We'll get back to you pretty quick – that's our promise!